 Capturing the market with a new online novated leasing platform
The Challenge
PayMe have been a long standing client of Aptiture and have looked to us for innovative technology solutions to grow their business.
PayMe have been industry leaders Australia wide in Salary Packaging, Contractor Payroll services, and in helping their eligible customers to receive LAFHA (living away from home allowance) .
The client initially wanted a website refresh and wanted to broaden their service offering to include novated leasing. In order to do this they felt at a minimum they would need an online calculator and a source of suitable leads.
Before making any commitments to the new venture, we suggested we conduct some market research and analysis on the market size, competition, online traffic volumes, and a range of other relevant metrics. We provided these insights and reported on ROI projections for the client.
Through our research and modelling we knew that there was an opportunity to capture a large segment of the market by providing a quality self service offering, and combining it with an appropriate lead generation strategy.
"We knew we could rely on Aptiture to design a compelling solution for our novated leasing venture." Michael Lindgren, CEO – Alliance Leasing
Our Approach
In order to maximise the success of the venture we felt a market leading technology solution was critical. We conducted a deep analysis of the major competitors and their online approach, and identified a number of areas in which we could innovate, including user experience, data integration and streamlining workflows.
We wanted to not only achieve a seamless and empowering experience for customers, but also to ensure the system included enough automation to minimise the requirement for administrative staff.
Of critical importance was a visually pleasing solution and a great user experience which included presenting an image of the car they were financing or leasing to the customer. This would be done with integration to the Catch-e database, and would be key to validating correct user input and minimising back office administration.
We would first roll out the solution on the client's existing website, and once successful create a separate brand and website called Alliance Leasing.
The Solution
The end result was a solution that turned the industry standard convoluted multi-step process into a single step solution with a real time, live updated price. Customers can also view a full breakdown of all of the running costs that contribute to a final monthly price.
The website also contains a live chat, videos and well structured information to demystify the complex world of novated leasing and tax implications.
This industry leading solution with expertise accessible by customers defined Alliance Leasing as an authority for novated leasing and helped skyrocket its sales figures.
From a technical perspective, the solution was built on a modern architecture including a two stack CMS framework for security and responsiveness, and an enterprise service bus with fully queued integrations so not a single lead is lost.
Aptiture's digital division designed a comprehensive digital marketing campaign to drive targeted traffic to the Alliance Leasing website, providing a steady stream of leads, and proving the engagement highly successful from day one.
Alliance Leasing won the 2015 Telstra Business Award for ACT in the Start-Up category.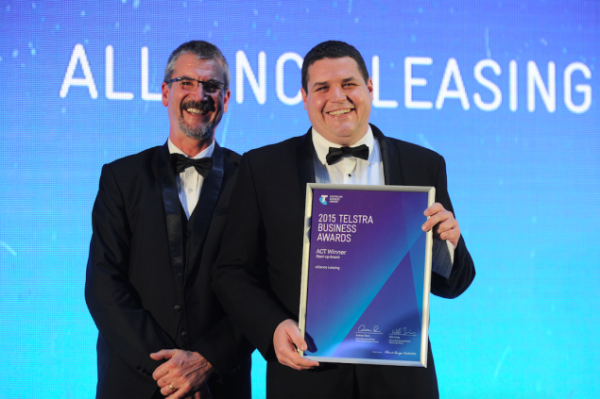 Our team delivered a combination of creative, technical and strategic capabilities.
Novated leasing has proven a widely successful initiative for the client
increase in phone enquiries

increase in novated leases

visitor to calculator use